Most apartment listings are quite descriptive these days, but they don't always tell the whole story. Sometimes information is missing from the listing, so you need to know what questions you should be asking on an apartment tour. When people ask us what to bring to an apartment tour, we always say: your questions!
Knowing what questions to ask will help save you time in the long run. You don't want to be emailing back and forth with the landlord while he or she is scheduling more showings that could potentially rent the place before you. Below we'll get into the best questions you should ask when touring an apartment.
1. How much is the rent?
You saw the rent price in the listing, but it's important to ask again right away so that you can confirm it's what you're expecting. Sometimes if a place was sitting on the market we would lower the rent, so sometimes the prospective tenant was pleasantly surprised to hear it was a tad less then they thought.
Ask if they will discount the rent for a 2+ year lease. This one is huge and not a lot of people know about it. I can tell you from personal experience that landlords HATE vacancies. So by signing on for 2 or more years you can help them, and maybe get a slight price break.
Ask how rent can be paid. We always allowed our tenants to pay conveniently with Zelle or Venmo, but some larger companies may require a bank transfer or check.
2. Are any utilities included?
Again, they should list all this in the apartment's listing page, but you need to confirm in person.
If any utilities are not included, you need to ask what the typical bills are for those utilities. The landlord may not know this offhand, but they should be able to get back to you with that information. Certain utilities like heating and electric offer disclosures that show the history of monthly usage and bill amounts. This information can be critical in knowing how much you'll actually be paying in total each month.
3. Who should I contact in case of emergency?
This is also a good question to find out their systems for maintenance and anything else. If they don't have a confident answer and say to call them, it may not sound as good as if they have a 24-hour maintenance person or company.
Also ask the protocol for submitting maintenance orders that aren't necessarily emergencies. It could be an online form, or it could just be contacting the same person as if it was an emergency situation. Good systems are important!
4. Is it noisy?
This one can be critical especially in bigger cities. We had apartments in Chicago and truth be told, one of them was on a busier street and did have some extra road noise compared to our other apartments. We were always honest and upfront about this and would stand by the front of the apartment so they could get a feel for how it sounds.
Can you hear footsteps or surrounding units? Any building with multiple units will have some level of noise, it's just important to ask and determine if it's a level you're comfortable with.
5. How is the neighborhood?
Legally where we were in Chicago, it would have been illegal for us to comment on the safety of a building. However, we would always speak from personal experience and say that we had lived there and felt comfortable, but we can't provide any safety level or information. I know… it's a weird law!
Try and see what sort of information the landlord is willing to share. Hopefully it's all positive and they gush over all the fun local hot spots and amenities of the area.
You can also use this time to ask about the neighbors. This is also something that landlords really shouldn't share, but they can tell you that they have great, quiet tenants above you, or something along those lines.
6. What is the pet policy?
Obviously this is important if you have a pet, or want to get a pet in the future. Here's the trick though, it can also let you know if the neighbors are allowed to have big, loud, barking dogs.
Use this information to help determine the possible current and future noise levels of the apartment.
It's one thing having people's footsteps above you, but a big dog who runs around every half hour could be a deal-breaker.
7. Can I add a Roommate in the future?
If you think you may add a roommate, don't just assume you can. This happened to us a few times and our policy was to add the roommate to the lease. By adding the roommate to the lease we would need to do a background check and verify income if it was needed to pay the rent.
Landlords won't like you just bringing on a friend or significant other who is not on the lease because it's a liability issue.
This is also a good time to ask if they allow subletting, and what are the options if you need to break your lease early. We'd offer a 2-month out clause if
8. Is there a flooding history?
This one is good to know if you'll be in a garden unit or have basement storage. Sometimes flooding does happen so it's good to know if there's a history of flooding so you can plan how you want to utilize any below ground space.
9. Is renter's insurance required?
We never required it, but some landlord's insurance may require tenants to carry their own renter's insurance. It doesn't cost all that much, but it is helpful to know if it's required of you.
10. What's the parking situation?
It's probably in the listing, but the landlord may have extra insight into the parking situation. Sometimes in our units, parking would not be available, but I would tell them if we had a tenant moving out soon and when parking would become available.
This is also a good time to know the terms and any extra fees associated with parking.
If there's street parking only, ask the landlord how difficult it is to find street parking at various parts of the day.
Do you need a permit to park in the street or anywhere else nearby? Are there guest permits needed for overnight guests? Parking can get pretty nuanced so you should know the rules.
11. What are the next steps?
Whether or not you decide then and there to move forward, you should always know what the next steps are if you're remotely interested. The landlord will tell you about their process. Below is an example of our process when we were landlords:
Pay a deposit to hold the apartment and cancel future showings
Complete online or written application
Landlord will review application
Landlord may contact your references (employer and job)
Landlord approves you
Sign lease digitally or in person
Pay first month's rent/any security deposit or move-in fees
Wait for move-in day!
Above is just an example of what our exact process was for next steps. Chances are that your landlord may do things differently, but it's important to know what those steps are.
Whether or not you plan on moving forward, it's good apartment viewing etiquette to follow up and let the landlord know where things stand. Let them know if you still want to check out a few more places, or if you decided it wasn't for you, then thank them for their time.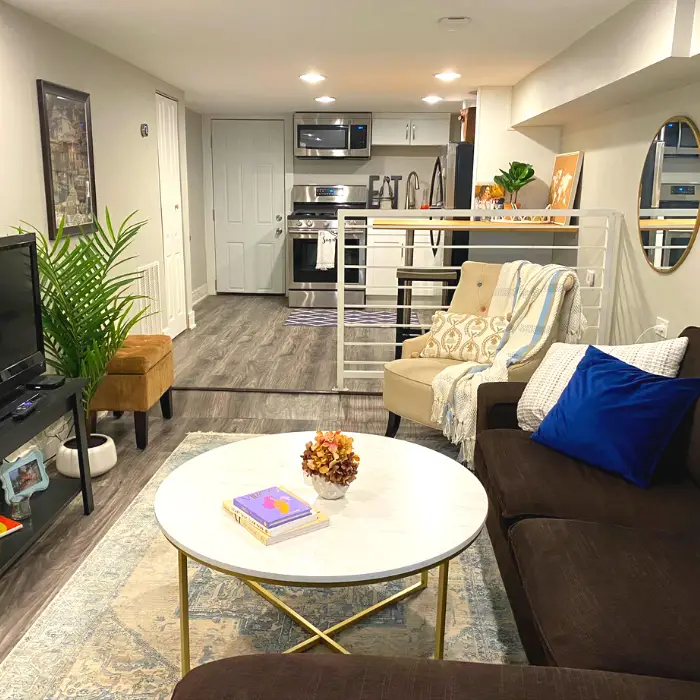 ---
Knowing the right questions to ask when touring an apartment will help you make a more informed decision. If any of the answers to these questions could be dealbreakers, you should probably ask them before the apartment showing. You don't want to waste your time and theirs by not asking a critical question in advance of the tour.