It's time for your apartment tour and you've got everything ready. You already know what to bring to an apartment viewing but there's just one last step- what will you wear? As landlords we've seen prospective renters wear things from sweatpants up to a suit and tie. We want to help you dress your best using examples of what we've seen and our impressions.
Knowing what to wear to an apartment tour can boost your chances at securing the apartment of your dreams. Dressing for the right weather and environment will also help keep you comfortable. Let's get into the tips below:
1. Wear Business Casual Clothes
When in doubt- business casual. Business casual to us means the following:
Dressy pants (jeans are fine, preferably darker the better)
Button up shirt or nice top: (tie not necessary)
Dressy shoes preferred but any clean shoe is OK
There's a lot more examples too like nice sweaters, flannels, polo shirts, and more.
Dressing nice is a great way to appear professional and show that you care. We know this can seem superficial, but the truth is that first impressions are important and you need to do whatever you can to help your chances of getting the apartment.
You don't need to go out and buy anything just for an apartment tour- odds are you already own a presentable outfit- just make sure it's clean and fits you.
It's also about dressing so you feel confidant! Looking your best can help you feel your best and give you the confidence you need to impress whoever happens to be giving the tour and making the decisions.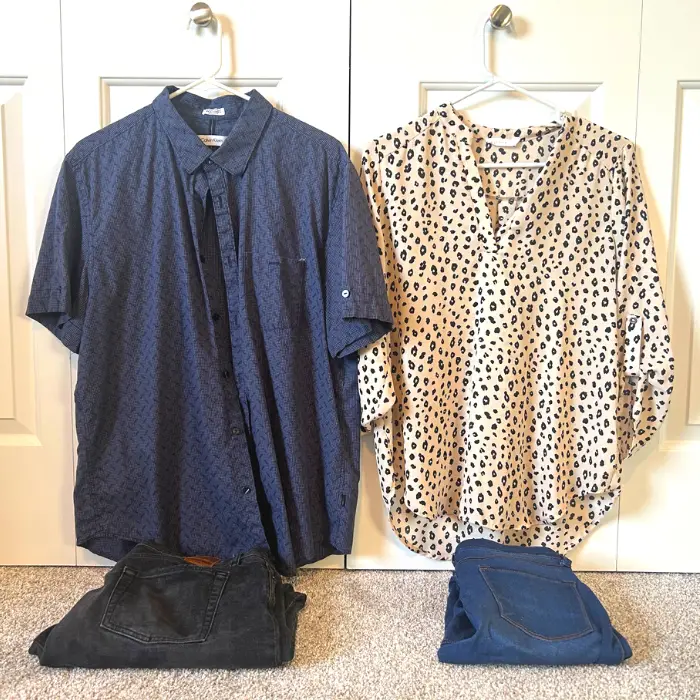 2. Dress Comfortably
Shoes: Since it's a walking tour you'll want to wear comfortable shoes. We also advise you wear shoes you can quickly take on or off. Asking if you should take your shoes off is good apartment viewing etiquette. Even if our apartment was empty, we would try and keep our floors clean and appreciated when the viewer asked if we'd prefer them to remove their shoes.
Clothing: Dress for the season. Our tours would involve going inside the unit, but also outside to the backyard areas and even around the building so we could show everything. If it's Winter, dress warm, and if it's Summer, be prepared for the heat.
3. Go Before/After Work
Lots of people would tour our apartments right after work and would be wearing their work attire. Generally this meant business casual but could also mean any work uniform.
Not only does this make it super easy for you by not having to change clothes, but it also shows the landlord or touring agent that you have a job. The best of both worlds! Whether it's retail, hospitality, medical, blue collar, business, or anything really, wearing what you wear to work is a great idea in our opinion.
If you work from home, you may want to up your game a bit and put on the clothes you would wear to a business casual workspace.
4. Clean up
This one probably sounds obvious but we've had people come straight from the gym after clearly not showering…
Take a shower, do your hair, shave or trim your facial hair, if it makes you feel good wear makeup. Make sure your clothes are clean and don't smell like the bonfire you were at the night before.
And please don't come smelling like cigarette or marijuana smoke especially if it's a non-smoking unit and you have indicated you are a non-smoker.
FAQ
What should I NOT wear to an apartment tour?
Don't wear anything dirty, ripped, torn or offensive. It's all about first impressions and just dressing in clean clothes can be enough. You also do not need to go overboard in the other direction and wear a suit and tie, or formal dress.
Can I wear jeans to an apartment showing?
Of course! Just make sure they are clean and don't have any rips or holes. Wearing dark jeans can look dressier while still being just as comfortable as blue jeans.
Does it matter what you wear to an apartment tour?
It's not worth overthinking, but we believe you should look nice. No, you don't need a suit and tie or formal gown, but wearing business casual attire that's clean and fits you can help make a great first impression.
---
Rachel and I are what you would consider the "mom and pop" landlords so we were the decision makers. We did our own tours and really appreciated when people would take the time to dress nicely and we would do the same.
We never made any judgement calls on what people wore, the above tips are just general advice if you're wondering what to wear to an apartment tour and want to look your best.
If you are at an open house and there's lots of people competing for the same apartment, then you definitely need to set yourself apart and one of the easiest ways to do this is by dressing nicely. Make dressing nicely a priority, as well as the rest of the items on our apartment viewing checklist and you'll be in great shape to get your next place.