You found the perfect place, you earn more than 3 times the rent but now your landlord is asking for bank statements for apartment proof of income WHAAAAT? CAN HE DO IT?
Showing bank statements for apartment applications is more and more common nowadays and renters can often feel like their privacy is being compromised. That's why we put together a quick guide that you walks you through everything you need to know about bank statements for renting an apartment, so you can decide whether you feel comfortable with it or it is time to find a new apartment to rent.
Can apartments ask for bank statements?
Yes, apartment landlords can ask you for bank statements to show income. Landlords are allowed to ask for anything that can prove your ability to pay your rent every month, as long as it is reasonable information. However, you have the equal right to decline the request and look at a different apartment.
Bank statement for rental application example:
Just log-in to your bank online, navigate to your checking and/or savings account statements and download at least 3 or more months worth. PDF is probably the best format for landlords. From there you can block out sensitive info like account numbers. The below example has almost everything blacked out to protect the account holder in the example.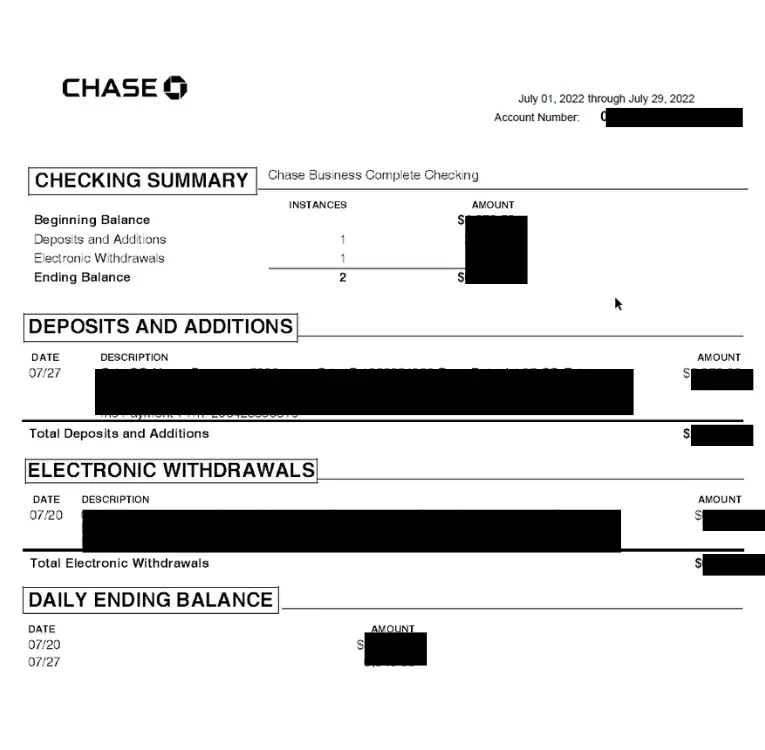 What do landlords look for in bank statements?
Bank statements for apartment applications are usually used as proof of income. If you are self-employed your landlord will probably want to look for deposits that can prove that you are making what you stated in your rental application. If you are actually employed by a company, they will compare your bank account with your pay stubs in order to corroborate that you didn't fake them. 
In cases where you don't meet the apartment's income requirements, or if you are trying to rent an apartment without a job, the landlord will want to see in your bank statements if you have enough savings to guarantee that you can pay the rent and will probably pay attention to your spending habits.
Should I show my bank statements to my landlord?
You are not forced to provide your bank statements for apartment applications, however, it is recommended to do so if you really want the apartment. One thing you should keep in mind: as long as the landlord is not violating any discrimination law, they reserve the right to rent the apartment to whoever they want to, which can lead into another person winning the place.
When I moved to Chicago and needed to use some side income to meet the income requirement, my landlord asked me to email him some scanned bank statements showing my extra income. Since I really wanted the apartment, I had no problem spending a little extra time doing this extra step.
Is it safe to send bank statements to the landlord?
Yes, there are measures you can take to black out personal information when sharing bank statements. If you don't care, then go ahead and send it as-is. However, if you have the ability, go ahead and black out personal things like account and routing numbers. Just search for free image editors and use black shapes to block out personal information you don't wish to share.
You can also go the old-school route by printing, and using black marker or whiteout to block out sensitive information.
Ideally a landlord would already have a secure file upload system in place for sensitive documents. But if they don't and you need to take the measures to secure the file, here's what we recommend:
We suggest making a zip folder with your bank statements or any other docs you wish to share. The next step is to password encrypt your zip folder and share the password through different means. Meaning- if you are emailing your zip folder, don't just type the password in the same email. Instead you should text it to their phone number, or call them to tell the over the phone. Finding alternate ways to protect your sensitive information is always a good idea.
What should you black out on bank statement for apartment?
The main thing to black out on a bank statement is your account or routing numbers. Anything else considered personal is probably already known by your landlord, such as your name, phone number, current address, income, employer, etc.
If you can afford to rent the apartment but don't feel comfortable showing your bank statements, you can always offer to provide the following information in order to prove that you are capable of renting the apartment:
Other ways to prove income to a landlord
W-2 Form: As the IRS website states, every employer is required to file a W-2 for each employee. This is completed by your employer and states your yearly income, which would help show a landlord your history of employer income.
1099-MISC Form: This tax form shows income usually earned on the side, like self-employment and side-hustle income.
Pay stubs: If you are currently employed, this is the easiest way to prove your income without using bank statements for the apartment application, however, there have been several reported cases of tenants faking them so landlords can be more reluctant to accept them.
Sadly, if you are living off savings while in between jobs, or have a steady income that is less than 3 times the rent, it will be very difficult to find an apartment without showing your bank statements. 
How many months back should my bank statement show?
Usually a landlord wants 3 months of bank statements at a minimum. The longer the better though, especially if it helps your case since you'll be going above and beyond in showing your ability to pay your rent each month.
Can you use bank statements as proof of income for apartment?
Yes, bank statements can count as showing proof of income. However if you earn most of your money through traditional employment, you may want to just show your pay stubs since they don't contain other info you may not want to share through a general bank statement.
Fake bank statements for apartment rental
It is crazy that we have to say this but faking your bank statements for an apartment application is not a good idea. While it might sound harmless, this is legally considered forgery and could get you into serious trouble.
If for any particular reason you can't show your statements, we recommend you to sublet an apartment as most of the time the requirements to get one of them are lower. If you're looking for info on how to fake bank statements- we can't help you. There are other options. you could have your parents sign your lease as a co-signer.
Have you shared your bank statements with your landlord? Let us know! We would love to hear your comments about it.
---
If you are in the process of renting a new apartment and you are not convinced of showing your bank statements we recommend you to check our guide about renting with a guarantor