Whether it is your first time going through the daunting process of finding a new apartment, or you are an experienced renter, contacting the landlord is one of the most difficult, yet important things to do in order to find your perfect new home. It can be hard to know exactly what to say when inquiring about an apartment, but we're here to help you out!
While there are several apartment ads that advertise a phone number, nowadays it is more and more common for landlords to list their contact emails in order to arrange a visit, that is why we decided to create a complete guide to help you to inquire about an apartment via email.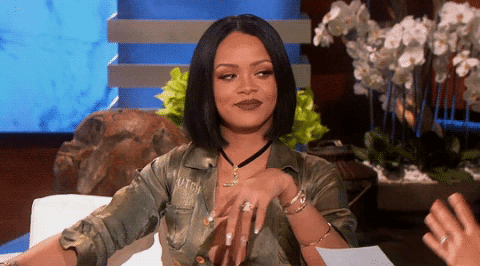 Step by step guide to inquire about an apartment via email 
1. Introduce yourself
This is your big opportunity to make a great first impression with your landlord so don't waste the chance and introduce yourself properly. Obviously, the person renting the apartment wants to make sure that the new renter will be able to pay the rent on time and take care of the installations, so this first contact is a great time to tell more about who you are, where you work and highlight how responsible you are.
Use a friendly tone! This was a way that potential renters stood out to Rachelle and I. We are about to create a dialogue, so starting with a friendly greeting and intro can help you stand out.
2. Ask the most important questions and leave the rest for later
You probably have dozens of questions, but we suggest just asking your top most important questions first – your deal breakers, if you will. Any non-critical question can wait until the showing.
Here are 3 quick examples that can help you decide whether a question is important or should wait until the apartment showcase date:
Are utilities included in the rent price?: if you are not sure about this and the price of the rental is on the high side of your budget,  you should be asking it right away to make sure that you can afford the place with its utilities. What is the point of falling in love with an apartment that you won't have?
Can I move in with my pet?: If you planning to move in with your furry friend this is the first question you need to ask before anything else, unless you are willing to leave your little friend at your parent's house or with a friend.
Is there any application fee that I should pay?: Application fees are usually charged in order to cover the costs of making background and credit checks around the applicant (the time and tools it takes to get this info, plus other admin items). Once again there is no point in wasting time with an apartment that you can't afford. If you are in a really tight budget and paying an application fee is definitely not an option for you then consider asking this before anything else. 
3. Schedule an apartment viewing appointment ASAP
Don't forget, the ultimate goal of inquiring for an apartment via email is to schedule a date to visit it, so that you can make a final decision on moving forward. Sometimes landlords will schedule individual appointments, other times it's an open-house.
Open-house scenarios can create a competition, so if you can get a viewing scheduled prior to an open-house you are likely increasing your chances of landing the apartment.
4. Leave your contact information
While this sounds obvious, it is that obvious that some people fail at this part simply because they forget about it. Make sure to include your telephone and, if you won't be able to attend calls during a specific period let him know about it.
You'd assume the landlord now at least has your email address, but if you're submitting an online contact form you may still need to provide your email address along with your other contact info just in case.
5. Close the email with a friendly goodbye
Again, this is your first and most important opportunity to make you look good so don't forget to close the email inquire with a polite and friendly goodbye. Keeping a generally friendly and professional tone throughout is something we always appreciated as landlords who viewed many inquiry emails.
Rental inquiry email templates
Template #1 – Basic apartment email inquiry
Hello Mr/Ms. ________,

My name is Rebecca Stinson and I am high school teacher interested in renting the 1901 Franklin Ave apartment listed on [LISTING SITE] for $1,500/mo. I work full time at [EMPLOYER NAME] and my I am totally capable of paying rent through my job so I am searching for a nice apartment to call my home, and I think your listed place might be what I am looking for.

What is the soonest that I would be able to come by for a showing?

I am looking forward to hearing from you, 

Have a nice day!

Rebecca Stinson
555-555-5555
RStinson8638284@gmail.com
Template 02 – How to ask for a pet-friendly rental property
Hello Mr/Ms. ________,

My name is Rebecca Stinson and I work full time at [EMPLOYER NAME]. I am searching for a nice and quiet apartment to share with my dog Hugo. I saw the 1901 Franklin Ave apartment listed on [LISTING SITE] and I think it is the right place for us.

Is this a dog-friendly property? Hugo is a super friendly and well-trained Labrador that I've had for 5 years.

If you can confirm that the unit is pet friendly, I would love to check the apartment out in person. I am available from 8:00 – 1:00 during weekdays and I have flexible hours on Saturday, hopefully we will be able to find a time that suits well for both of us.

Looking forward to hearing more from you,

Rebecca Stinson
555-555-5555
RStinson8638284@gmail.com
Template 03 – How to ask several questions when inquiring about an apartment via email
Hello Mr/Ms. ________,

I am Rebecca Stinson, a [JOB TITLE] from [CURRENT CITY] looking for my first apartment. My ideal home is a place where I can relax and call home for the next few years. When I saw your 1901 Franklin Ave property listed on [LISTING SITE] for $1,500/mo, I immediately thought that it could be the place I've been searching for, that living room looks so cozy! Thanks to my job and the financial support of my parents, I am more than able to pay the rent each month.

Before we scheduled a showing I did have a few questions:

– Is renters insurance required to move in?

– What's the policy for subletting?, there's a small chance I may need to relocate for work so I'm curious on how that would work with my signed lease.

I would love to set an appointment to check out the apartment. I am pretty flexible after 4pm on weekdays.

Looking forward to hearing back from you!

Regards,

Rebecca Stinson
555-555-5555
RStinson8638284@gmail.com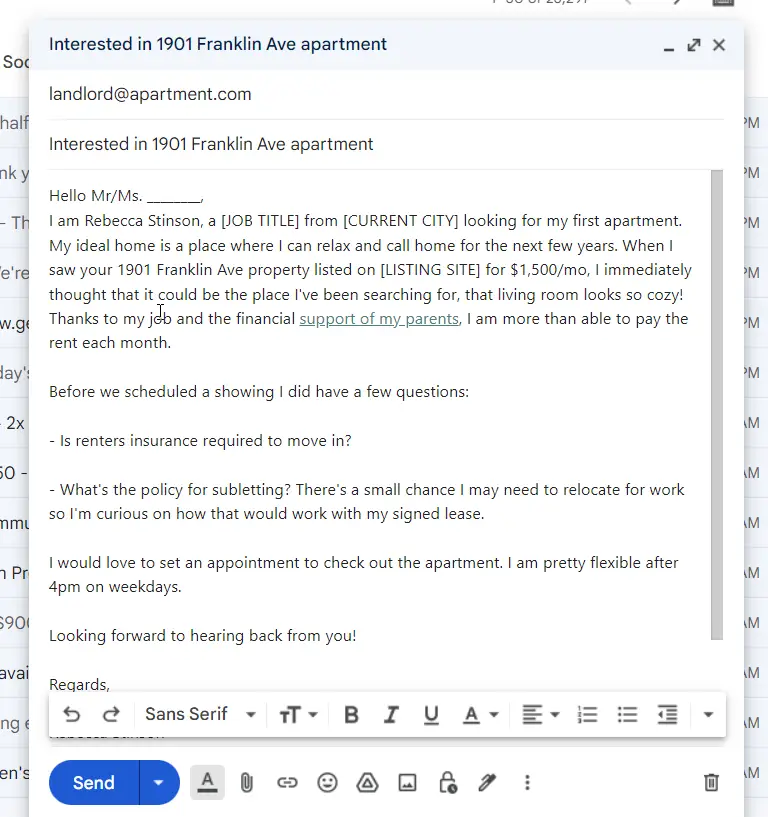 Tips to inquire about an apartment via email
Make sure to include the address and listing price of the apartment in your email. If you are sending many inquires this will help you to recognize more easily who got back at you, and if the landlord is in charge of many listings this will help him too.
Mention your preferred times for the apartment tour so you don't waste time going back and forward to pick a date.
Once the landlord gets back at you and you set an appointment, ask him to send you the application documents so you can go to the apartment tour ready to apply. If you fall in love with the apartment and there are several applicants, this will win you some time and chances of getting the place.
Now that you know how to inquire about an apartment via email and make the first contact with your landlord, it is time to look for that perfect apartment and start sending your email enquires. May the odds be ever in your favor!