Touring multiple apartments can be a bit overwhelming at times. There's lots of things to plan out, like what should you bring to an apartment viewing. Being prepared is key to saving time and getting the apartment you want.
We loved having prepared tenants so we created the ultimate apartment viewing checklist so you don't miss out on anything in the short amount of time you'll spend on the actual apartment tour.
So what should you check for on an apartment tour? Here's our go-to checklist:
Apartment Safety Features
☐ Working locks
☐ Secure non-broken doors
☐ Secure non-broken windows
☐ Smoke detectors
☐ Carbon monoxide detector
☐ Fire extinguisher
Amenities
☐ Cable hookup for Internet/TV
☐ Cell phone reception
☐ List of Internet providers
☐ Laundry present
☐ Storage present
☐ Parking
Bedrooms
☐ Working lights/fans
☐ Working closet door(s)
☐ Space for your bed, dresser, etc.
☐ Working outlets (bring outlet tester if you'd like)
Bathroom
☐ Working lights/fan
☐ Working water fixtures (hot and cold)
☐ Functional toilet
☐ Water pressure
Kitchen
☐ Working lights
☐ Working appliances
Miscellaneous
☐ Access to circuit breaker
☐ Outdoor trash bins present & not overflowing
☐ No weird smells
☐ No excessive noise from outside or other units
☐ No damages
☐ No signs of bugs
☐ Take photos/videos
As you can see, there's quite a bit to check, so we suggest you read through each checklist item a few times before beginning the showing so you know what to look out for. Also write down questions to ask when viewing the apartment so you don't forget them.
Printable apartment viewing checklist
Below is our printable apartment viewing checklist. You are welcome to use it. If you want to share it online, you have permission only if you link back to this page.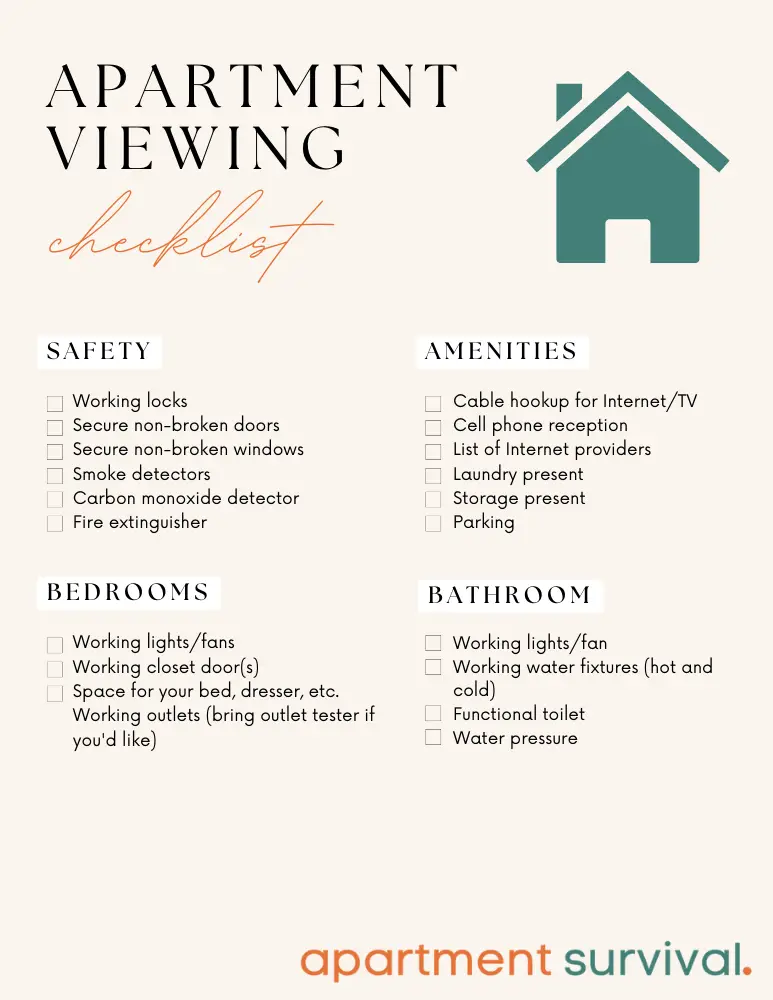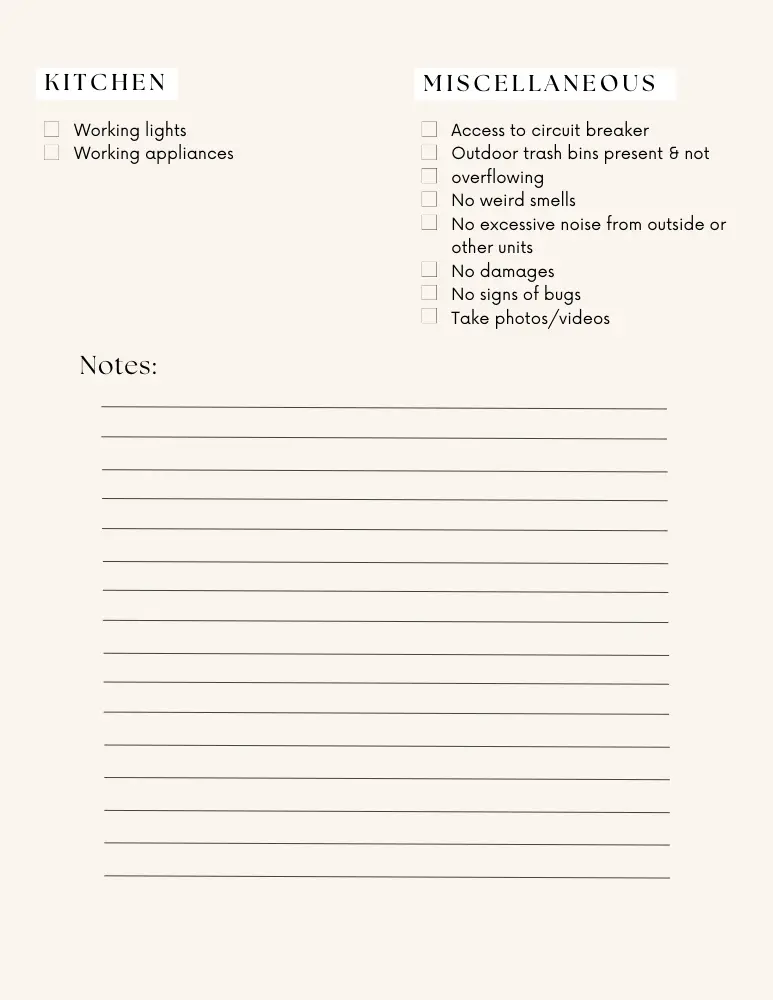 What to do if something is broken, missing, or misleading
Some of the bigger items in the apartment viewing checklist above should have been written in the apartment listing. However, there are times that the apartment you just saw isn't what you were expecting. Before you assume anything, be sure to communicate that with the landlord.
We had times where we didn't know that something was broken in a current tenants unit until we were on the apartment tour. Some tenants of ours would choose not to bother us for small things which we found odd.
But that "small" thing could be important to someone on an apartment tour. So if anything isn't what you expected, tell the landlord. If they're anything like us, they will want to address it and get it fixed, adjusted, or changed before you move in.
---
Keep our checklist handy, show up, be prepared and dress nicely for your apartment tour. The more prepared you are, the better your chances at landing your dream apartment.