Looking for your first apartment involves many steps and concerns, but the decision of renting a studios vs. 1 bedroom apartment is one of the very first things that you need to be asking yourself before start inquiring about an apartment. 
While both terms are sometimes used interchangeably, studios and 1 bedroom apartments are not the same, that is why it is important to understand the differences between both apartment layouts in order to decide which is one for you.
Are you ready to take a look at the difference between these two styles of apartments? I am not only going to highlight the main features of each layout, but also solve some of the most frequent questions asked by our readers, so make sure to use our table of content to quickly jump around this article.
What is a studio apartment?
A studio apartment is a single room that contains the living room, bedroom, and kitchen in an open space, with no walls dividing each room section except for the bathroom, which should be always be separated. Some studios apartments might feature the kitchen in a different room, but in most cases the kitchen will be inside the main room. 
An upgrade to the typical studio apartment is a junior one-bedroom apartment, which consists of a studio apartment with space for a small room. This small room is a physical separation of the rest of the apartment that can work as a bedroom or closet, but in most of the cases won't even have a door. 
Is a studio apartment good for one person?
A studio apartment is great for a single person looking to save money on rent, as studios often cost less money than one-bedroom apartments. However, the storage space in a studio apartment is limited so you should be willing to downsize your belongings or rent a storage unit. 
While most studios do not have a rule against two persons occupying the apartment, a studio apartment is a small space that does not offer any room for privacy, so it is important to consider this before deciding with your partner what is the best place for you to live in.  
If you are sharing an apartment for the first time, check out our calculator for splitting the bills based on income of the roommates.
Can you raise a baby in a studio apartment?
As parents, we don't recommend it. If you can afford it, you should have at least a one-bedroom apartment. In our experience it is possible to live in a one-bedroom apartment with a baby if you can plan ahead and organize it to fit your family's needs.
How does a studio apartment look?
Studio apartments can take many different layouts, but the most common ones are L-shaped rooms and rectangles. 
When finding inspiration for studio apartments on visual websites such as Pinterest, you will find that most of the studio featured there are big and offer space for many furniture items. However, this does not always happen in real life and you will often find that the apartments that landlords will show you are going to be way smaller than you thought.
I will share with you below some pictures of real-life studios so you can have a realistic sense of what you will find when hunting for studio apartments: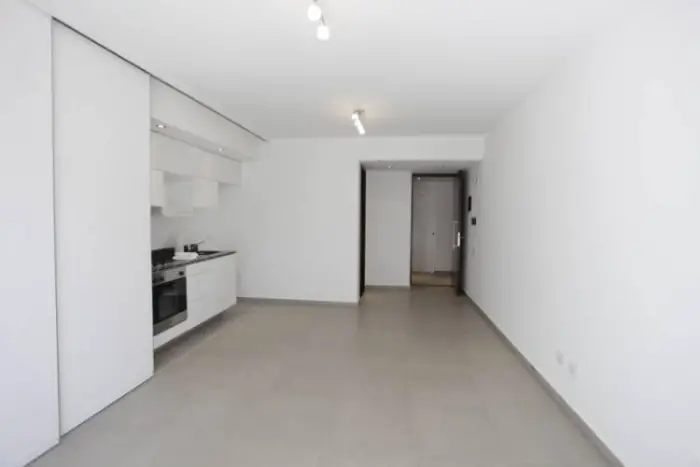 How do you separate a bed in a studio?
There are several ways to separate your bed in a studio in order to create the feeling that you have a special space for your bedroom. The most used items to create this different space are curtains and bookshelves, however, you can get as creative as you like and try new things like rugs and plants.
Below you can see some of my favorite inspirational pictures to create a bedroom space in your studio apartment: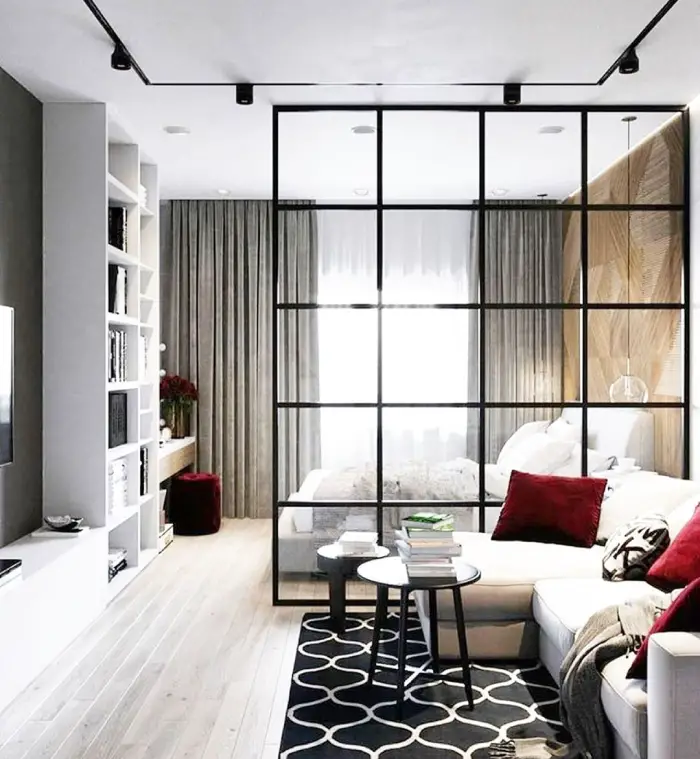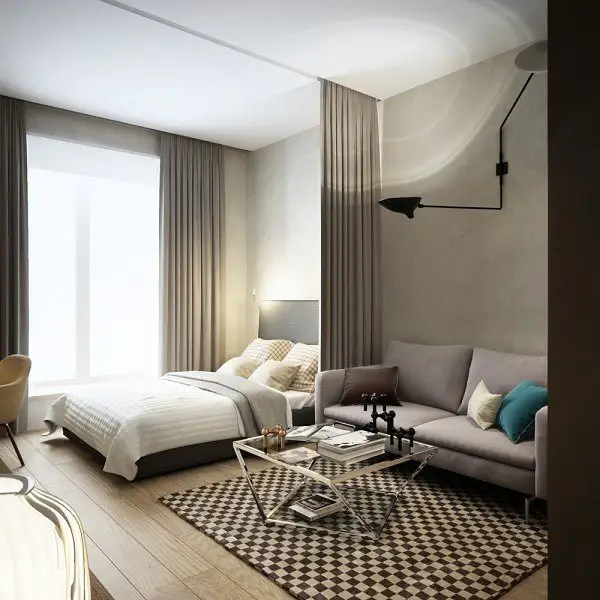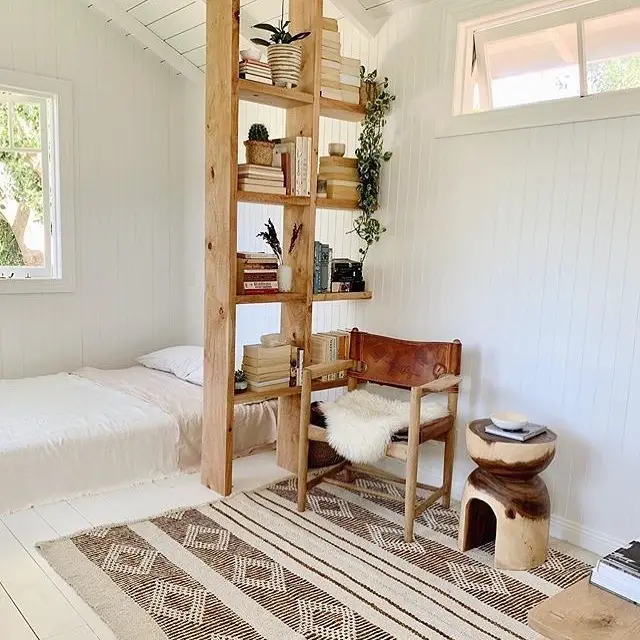 What do I need for a studio apartment?
You will probably not have space for a dinner table set AND a sofa in your studio apartment, so you only need to pick one of these options based on your needs, buy a bed, and the typical kitchen appliances that you would need in an apartment.
Since studio apartments tend to offer small storage space, it is important to buy dressers and bed frames with drawers in order to maximize the space.
Are studio apartments cheaper than 1 bedroom?
Most of the times studios are cheaper than 1 bedrooms. The only few cases where a studio can cost more than a one-bedroom is if the studio is located on a better location or if the building offer better amenities. 
For example, a studio apartment in Manhattan will cost the same or more than a one-bedroom apartment in Queens. Also, if comparing two apartments in the same location, a studio in a new building with doorman and swimming pool will probably cost more than a one-bedroom apartment in a 30 years old building and no amenities. 
What is a one-bedroom apartment?
A one-bedroom apartment is an apartment that offers a separate room for the bedroom. Typically, a one-bedroom apartment will offer a separate space for the bedroom, living room, bathroom, and kitchen, but sometimes the kitchen can be part of the living room.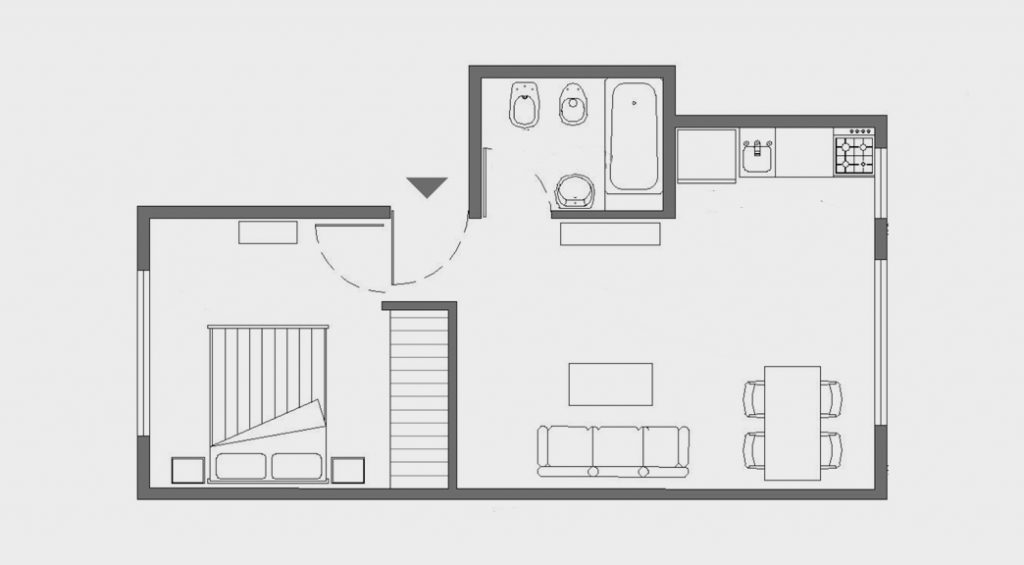 Is a 1 bedroom apartment big enough for a couple?
A 1 bedroom apartment is the typical place for a couple looking to live together. If your or your partner work from home, you might find more suitable for you a three-bedroom apartment so you can transform the second bedroom into your own office.
What does a one-bedroom apartment look like?
Each one-bedroom apartment will be unique and have its own layout, however, these are the most common ones:
Why are 2 bedroom apartments cheaper than 1 bedroom?
Renting a 2 bedroom apartment to share it with another person will always be cheaper than renting two one-bedroom apartments since you will be sharing common spaces such as bathrooms, the kitchen and the living room. Also, two-bedroom apartments can be cheaper than the ones featuring one bedroom when the smaller one is located in a pricer spot of the city.
Recap: what is the difference between studio and one-bedroom apartment?
The difference of a studio apartment vs. a one-bedroom apartment is that the studio has one open room that integrates the kitchen, bedroom and living room at the same time, while the one-bedroom apartment has a dedicated room divided by a door and walls to separate the bedroom from the rest of the apartment.
Studio vs. one-bedroom apartment: the pros and cons
| | | |
| --- | --- | --- |
| | Advantages | Disadvantages |
| Studio apartment | It is cheaper to rent a studio apartment than a one-bedroom apartmentYou need less furnitureIt is easier to keep it clean | There is little storage roomIf you are sharing the studio with another person you won't have your own private spaceSpecial furniture created to optimize storage spaces tend to cost more money |
| One-bedroom apartment | You can have a dedicated space for your bedroomThere is more space to invite guests to come overYou have more space to store your belongings | It cost more money than studio apartmentsYou need to spend more money on furnitureIt takes more time to keep it tidy and organized |
Choosing between a studio vs. a 1 bedroom apartment can be a hard choice, but now that you have found the apartment is right for you it is time to think about how you are going to furnish and decorate it. Thankfully for you, we have some great articles that can help you to set up your first apartment: