How to furnish an apartment for $1000 is a frequent question when moving alone for the first time, and it is one of the main expenses that you will have when moving to your first apartment. While some rentals come furnished, these tend to cost more so if you are planning to stay in the apartment for a long term period it is wise to invest in furniture that will stay with you for some years. 
Because we are here to help, we decided to create a room by room guide with examples and tips to furnish an apartment for cheap. Although we recommend you to read this complete guide, the table of content below will help you move around this article and jump straight to the part that you are looking for. 
How to furnish a 1 bedroom apartment for $1000 or less
If you google "first apartment essentials" you will see many guides about this topic. However, most of these online guides fail at covering the truly essential products that you need in order to fully furnish your first apartment, so we decided to create a room by room guide of the minimal things that you must buy in order to move to your new place and leave comfortably
Your first apartment kitchen basics
Cookware set
We can talk for hours and hours about how to buy your first kitchen essentials without ending up buying things that you will never use. However, for the sake of keeping this guide simple, we can conclude that this Vremi cookware set priced around $50 at Amazon is a great choice if you don't want to overthink this and go straight to the easiest solution. 
Dishes and glassware set:
The Queen of England is not going to have dinner at your place so go for a set that covers the basics: dinner plates, salad plates, bowls, mugs, and glasses for 4 people. Stansport has a basic set priced around $32 that is well-reviewed by their buyers, while Safdie & Co has a set that costs the same and, while it is a little less durable according to the reviews, it is more stylish and can make your home look more expensive.
How to furnish your living room on a budget
Choosing the best sofa for your first apartment
If your goal is to furnish your apartment for $1000 then you should aim to find a sofa for under $300, you will definitely find some nice futon options for less than $200 but if you enjoy spending time at home and doing Netflix & Chill then we suggest you invest in a sofa that is a little bit more comfortable.
A great tip when you are trying to furnish an apartment for cheap is to choose a neutral sofa (avoid white tones if you don't want to go crazy when cleaning it) and make it look more stylish with pillows that will cost much less than a high-end sofa and will make your living room look great and cozy. Below, we will share some amazing options for sofas under $300.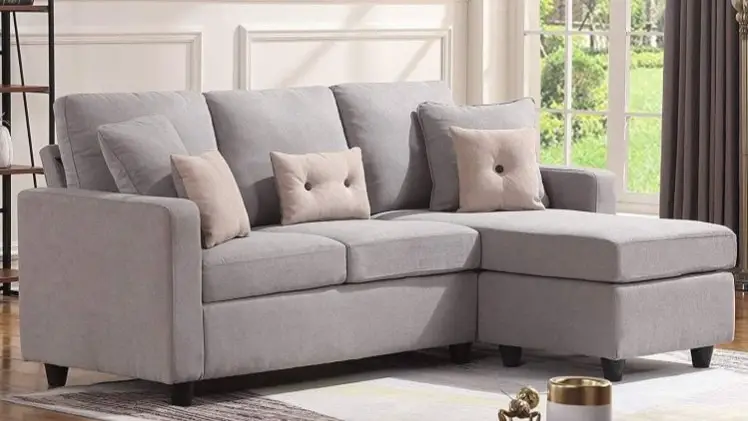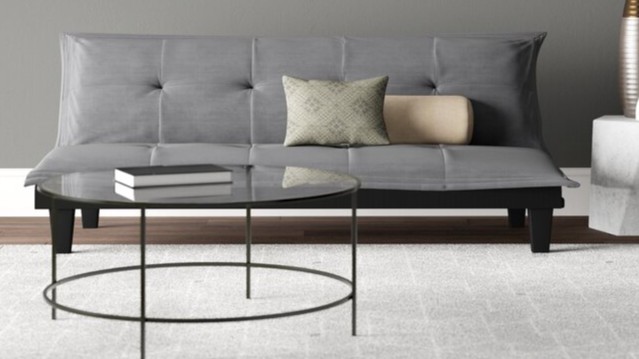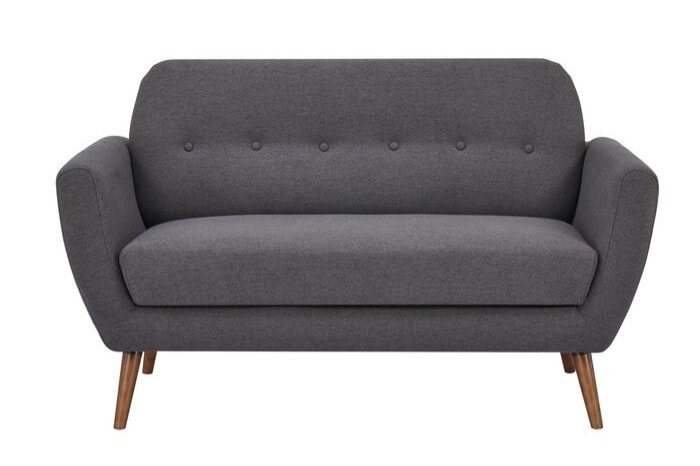 If you want to style your couch, a great place to search for cheap cushions is HM Home. You can find cushion inserts around $13 each at Amazon, Utopia bedding is a good quality interesting offer, and shop stylish cushion pillows at HM for only $10 – $15 each. Some of our favorites options that fit perfectly a grey sofa are: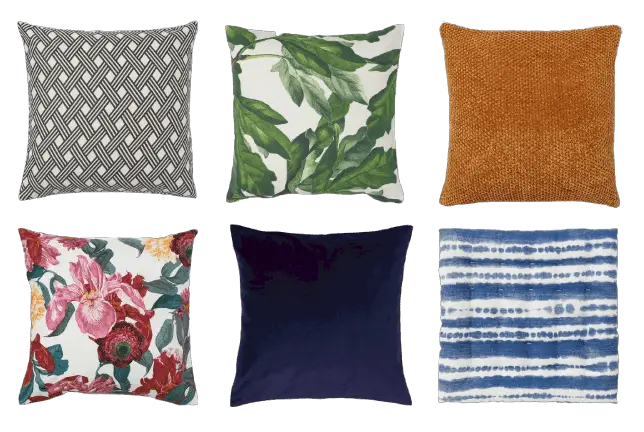 Finding the perfect dining table set
Let's face it, your first apartment isn't going to be a huge mansion, so chances are that your living room is going to be also your dining room. Don't worry! You can still make it look beautiful without abandoning your shoestring budget. 
For small spaces, a small round table will work perfectly, and the good news is that there are beautiful modern tables that can do the job for you. For example, this GreenForest round withe table with wooden legs and a set of 4 matching pre-assembled chairs by Furmax will cost you around $175, even though for this size of table 3 chairs will be more convenient.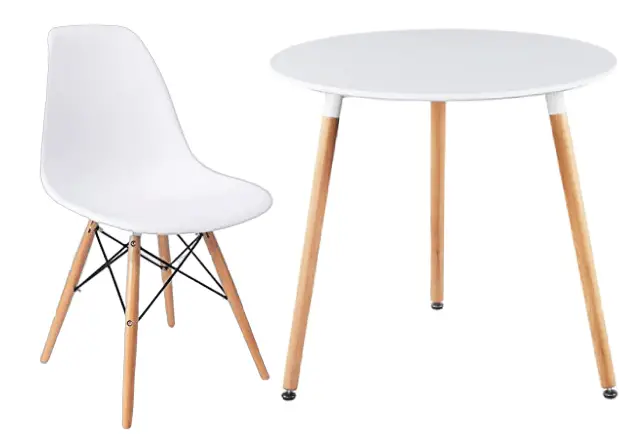 If you enjoy cooking and having guests for dinner and can afford to buy a bigger table, this dinner set by Bonnlo is also a fantastic option that will cost the same that the Scandinavian set mentioned above and will allow you to sit more people comfortably at the table,
Tv stand on a budget
Now that we have a neutral sofa and a nordic dinner table it is time to find a piece of furniture to put the TV. An Oslo styled tv stand is an excellent choice to pair with the furniture that we already show, and Convenience Options has this one for less than $170. The best thing about this model, especially if you are renting a small place, is that it has two drawers that you can use as storage space.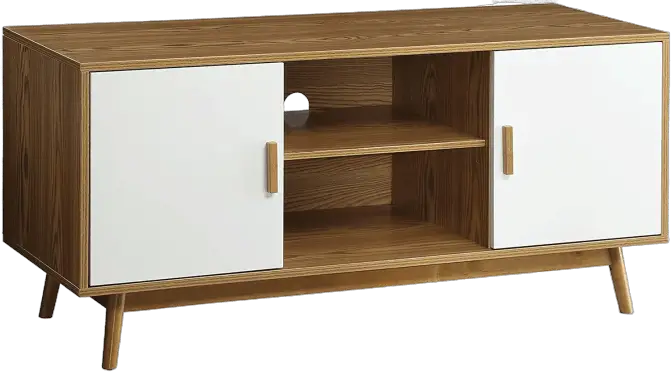 Furnishing the bedroom for cheap
Thankfully, minimalistic home decor has been trending for a while now and this means that you can furnish your bedroom on a budget while still making it look outstanding. 
Nightstands
Metal nightstands are one of the latest home decor trends. Round side tables are one of the most modern items that you can place beside your bed and, luckily for you, you can get them for $35 or less each.
For a similar but more traditional option, you can check out this squared table by Zinus priced under $35 too.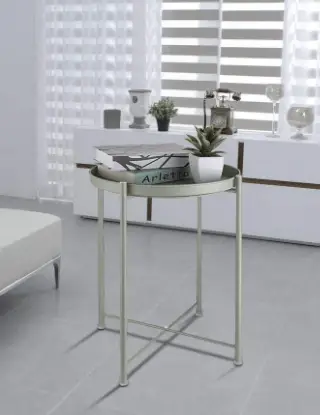 Bed frame
The bed is the first thing that we notice when we enter a bedroom, that is why is important to choose carefully your bed frame since it will determine the overall look of the whole room.
This panel bed in black from Crown Mark continues with the minimalistic yet modern look that we are trying to bring alive in the bedroom, and only cost less than $120.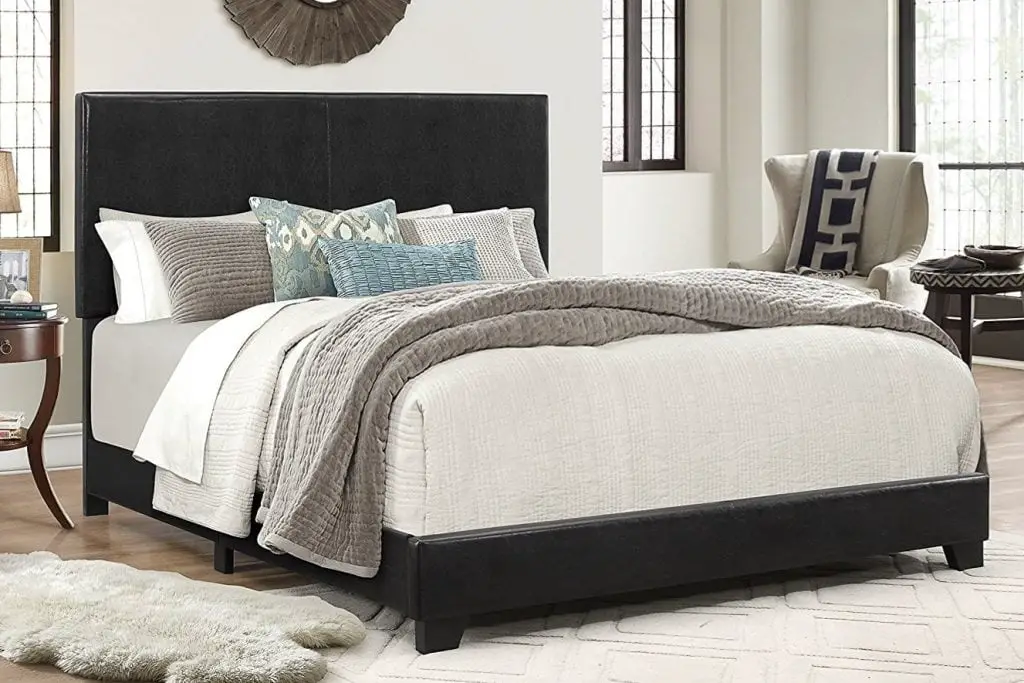 While metal furniture will make your room modern, it will also make it look colder, that is why you need to be careful with the decoration and try to bring life to your house with plants. If you want the place where you rest to look a little warmer and cozy, for a similar price you can choose the Mellow Naturalista Classic bedframe in wood. What we particularly love about this bed frame is that it has a great price for its quality ($140 average) and it looks way more expensive than it is.

The mattress
Finding a mattress on a budget for your first apartment is not an easy task. Mattresses can cost anywhere from $150 to $1500 so the first problem would be how to decide how much you can spend on them and find the best product for your budget. 
If you are looking to furnish your apartment for $1000 or less you should stick to a $300 budget for the mattress. However, the mattress will be your best friend for years and years so if you are willing to invest a little bit more on this you can get more quality with a $500 and still take care of your budget. 
Another important thing to consider before buying your first mattress is to choose whether you prefer a memory foam mattress or a hybrid one. Below we share a video that explains the main differences of each type so you can decide which is better for you and your back:
If you prefer a memory foam mattress then we recommend this one from Vibe since it not only helps you to align your spine, it also keeps you cool during sleep thanks to its gel-infused foam. For a hybrid mattress, Olee Sleep has many great choices such as this  13 inches Galaxy Hybrid Gel Infused Memory Foam priced under $250. 
Roundup: What is the cost of furnishing a one bedroom apartment?
If you followed this guide, the cost of furnishing a one bedroom apartment can range between $900 and $1150, depending on how much you want to spend on the sofa and the mattress, that are two of the most expensive things to buy when furnishing your home on a budget, and if you decided to make your own bed frame or prefer to buy a new one.
How to furnish a studio apartment on a budget
If you want to furnish your studio for cheap you can easily follow the one bedroom apartment guide and take out the items that you won't be needing in a smaller apartment. 
How do you arrange furniture in a studio apartment?
When decorating a small studio the first important decision that you will have to make is whether you prefer to have a sofa or a dinner table set. Unless you are lucky and find a big studio, chances are that your apartment won't have enough space for both so it is important that you consider what you are going to use your home for (are you going to study a lot? Host dinner parties with friends every saturday?).
Picking a dining table for your studio
We covered how to choose a dinner table set if you want to furnish your first apartment on a budget a few words ago when talking about furnishing a one bedroom apartment. For a studio, we still think that the GreenForest round withe table with wooden legs and the set of 4 matching pre-assembled chairs by Furmax are your best bet if you want to be comfortable, save space and make your room look great. 
If you are decided to choosing a sofa as your main piece of furniture but still want to be able to hop on a chair from time to time, another great choice is to go for a wall mounted floating table like this one from Tangkula that won't take much space and will also serve as a storage space. 
An accent chair will help you create a living room space if you pair it with your couch, and you can move it and use it with the floating table when you need to. Some of your favorite budget options are these ones: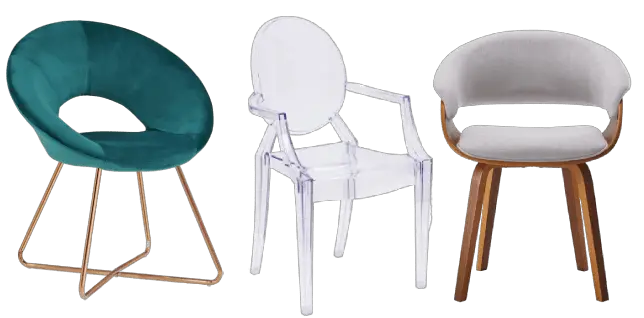 Best sofa on a budget
As we mentioned before, when furnishing on a budget it is best to choose neutral colors for the main items of your room and then use accent objects to give it a more stylish look. For a studio apartment, any of the sofas that we recommended before will work perfectly.
Bed options for a studio apartment
You will be tempted to simply buy a convertible sofa or a hidden bed furniture, please don't!. You are going to sleep here the 365 nights of the year, do yourself a favor and pick a good mattress that won't kill your back on the second night. 
With that said, one smart thing that you can buy is a bed frame with storage in order to maximize your storage space. It will definitely cost you a little bit more than a regular one but will help you organize better your belongings.
Replacing the TV stand for a dresser 
We might be repeating over ourselves but optimizing the spaces is really the key to survive in a studio apartment. If you don't have time for both, consider replacing the TV stand with a dresser that can support the TV and also give you more drawers for your clothes.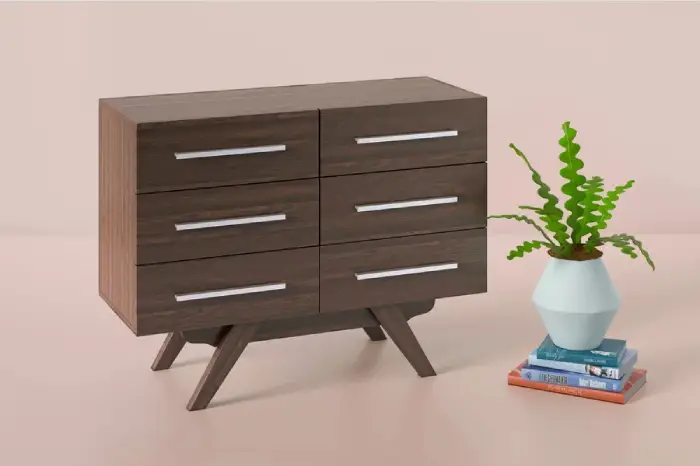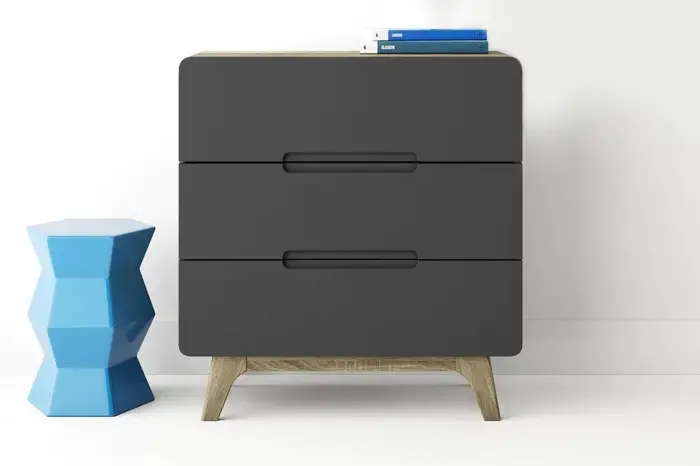 In recap: Tips for furnishing an apartment under $1000
Choose a minimalist design for your home interiors
Stick to a $300 budget for your sofa and combine it with accent pillows to make it stand out for cheap
If you live in a studio apartment, replace the TV stand for a drawer to save space and money
Metal furniture can make your home look trendy and while saving money
Round tables add a modern touch to your apartment and can be found for cheap when looking for the Scandinavian styled ones
Frequent questions about how to furnish your apartment for cheap
How much does it cost to furnish a 1 bedroom apartment?
The minimal cost of furnishing a one bedroom apartment is $1000 without including the cost of buying a refrigerator for your home. You can save money by buying second hand furniture or embracing DIY projects, or you can expect to pay more if you want to add more upscale pieces to your apartment or step up your decoration game.
What is needed to furnish an apartment?
When furnishing your first apartment you have to consider the bed and mattress, night stands, a sofa for your living tool, a dinner table set and a TV stand. These are the basic things that you will need, from there you can add accent chairs, a coffee table or a drawer, to name a few.
How much should I pay for a couch?
If you are furnishing your apartment on a budget you should stick to a $300 – $400 budget for your sofa. However, sofas can go up to $2000 and you normally get what you pay for so, if you can afford to spend more on furnishing your home, we recommend you to look for $500 – $600 couches.
How much does it cost to furnish a living room?
You can furnish your living room on a budget for as low as $700 if you look for $300 sofas and dinner table sets under $200. However, this price tag can go as high as you can imagine if you choose a $1000 sofa and $150 chairs.
What is the best time of year to buy furniture?
January and July are the best time of the year to buy furniture because in February and August stores release new furniture pieces, which means that the month before they need to sell their old stock in order to make space for the new products.
Now that you know how much you can expect to pay for your furniture it is time to start window shopping for new exciting pieces for your home!
If you found this guide useful share it with your friends and help them get their dream apartment.