One popular question that our tenants used to ask us was permission to mount their tv on their wall. Our tenants were wondering if that's allowed, and if so, what parameters must they follow. We always allowed tv mounts but appreciated them asking permission first.
Usually you can mount a TV in an apartment, you just should ask permission to do so. First, always ask your landlord if mounting a TV is not breaking any lease agreements and is okay with them. Next, when purchasing a TV mount, keep in mind there are renter-friendly mounts that will leave less damage behind. Always locate a stud to ensure that the mount is properly secure to eliminate any other damage.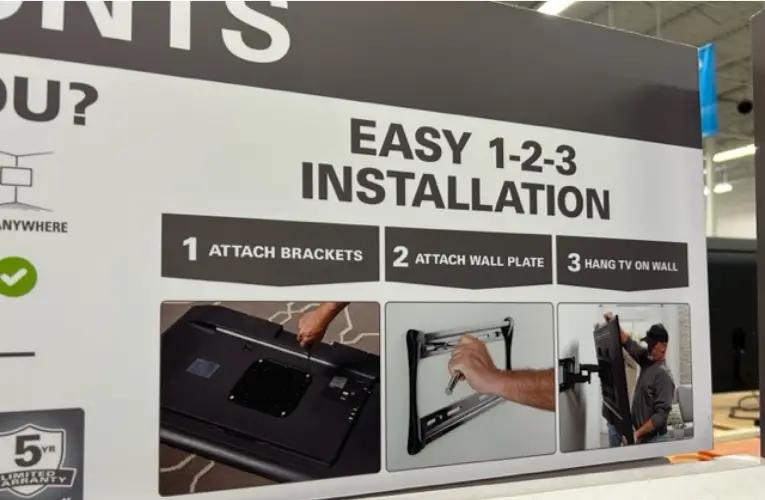 Find a Renter-friendly TV mount for your apartment
Freestanding TV mount– This type of mount will stand alone on a pillar or something similar and require no screws or holes in the wall.
No stud TV mount- This type of mount is nailed into the wall with a bracket attached to it for your TV. Once the backing is nailed into the wall there is a piece you attach to your TV to hook onto the bracket. This leaves small nail holes you will have to fill in rather than larger screw holes.
Swivel base mounts- This mount sits on a piece of furniture and even though it's not mounted to the wall it gives you the same look. On the swivel base, you can move and rotate your TV to the best position, and you also have multiple options as to how to view your television.
The more common version involves screws which you'll see in the video below.
How to mount a TV on an apartment wall
After checking with your landlord make sure you have the proper tools. The box and instructions for the mount you purchased should provide you with a list of the appropriate tools. (Typically: screwdriver, drill, level, stud finder, socket wrench)
Find the right spot for the TV. If you are a person who has a hard time visualizing where to put your TV, you can cut out a piece of cardboard the size of your TV and put it on your wall to check if the location is right for you. Make sure the height is at a good viewing angle from your sitting area.
Check for the proper wall space and then locate a stud to ensure the TV is hung securely. Once you have located where you want the television you will need to use a stud finder to make sure the TV is not going to fall once hung.
Once you find the stud and have your placement where you want it, use a level to ensure that all your lines are level.
Mark the holes you need to drill for your screws. Measure the TV, and the mount, and be sure of exactly the right location for your screws. You don't want to make extra holes that you only have to fix and patch later. Always double-check your measurements before making any permanent holes.
Your final step is to secure the mount to the wall and the TV to the mount. Give your mount a slight tug to make sure it is in place and will not fall once the weight of the TV is put on it.
Here's a video on installing a wall mount for visual reference.
How to fill the TV mount holes in your apartment wall
The first step when filling the holes left behind from the mount is to remove all screws and other materials that were on the wall to secure the mount.
Next, you'll need to fill in the holes with a compound filler. Make sure you press the filler into the holes, so they are completely filled in.
Once that layer dries, add another layer to the surface covering the hole completely.
After that layer is dry, it must be completely dry, sand the compound down to make an even, smooth finish on the wall. Remove any dust off the wall.
Final step is to prime and paint to match the wall. Using a primer first is important to ensure that the paint will stick to the compound.
Our bad experience mounting our TV to an old wall
When Rachel and I moved out of our last apartment, the movers went to remove the tv mount from the wall and it completely peeled part of the wall off with it. We had our tv mounted to a wall that had painted over many layers of wallpaper from long ago.
Unfortunately for us this wasn't as easy as filling a few screw holes like normal. We had to have somebody spackle the whole area after we moved out of state, to smooth out the big chunk of the wallpaper that peeled off with the mount.
The moral of the story is to be extra careful when mounting to old apartment walls. This is why we really want you all to ask your landlord before mounting a tv to your apartment's wall.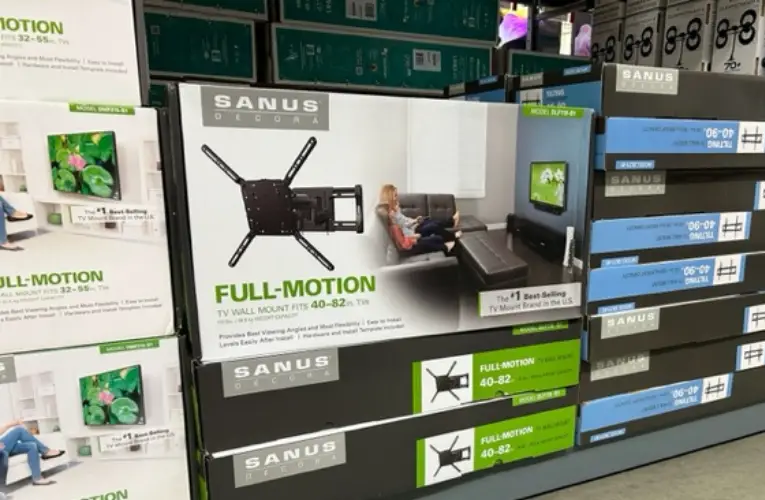 FAQ
Do apartment complexes charge to mount a TV to the wall?
That can depend on the rental agreement. You should check over your lease if you have one or speak to your landlord before mounting a TV to the wall of an apartment complex.
Can you mount a TV without damaging the walls?
There is no way to mount a TV directly to the wall without causing some damage to the walls. You need to drill holes for the screws as it needs to be screwed into a stud to ensure it will not fall. There are other options for mounts as mentioned above, however, to mount a television directly to the wall you will have to patch some screw holes.
How much does a TV mount cost?
A TV mount can range anywhere from $100-$300. Price is based on the material of the mount and the size of the TV being used. Make sure you buy a mount that is made to hold the size of your TV. Larger televisions need certain mounts made of stronger material to keep the TV from ripping off the wall.
Apartment living is all about making the best use of the space you have, and mounting your TV can help create much needed extra space. Rachel and I always let our tenants mount their TVs, and they were all good about patching it up and using the touch up paint we gave them to use when they moved out. We hope our helpful guide gave you some great tips to mount your own tv in your apartment unit.